Friday, February 24, 2012
Chuck Prophet and the Mission Express

Ashleigh Flynn

9:30 p.m.

21 and over

$15 in advance, $15 day of show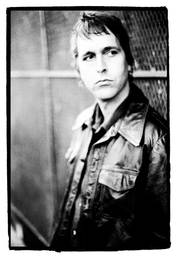 Chuck Prophet and the Mission Express
For most of his life, San Francisco has been Chuck Prophet's muse...or more accurately, his drug of choice. "It can suck you under. That first hit. It really does a whammy to you. And if you're like me you can find yourself chasing the San Francisco dragon for the rest of your life. That's what the record is about."
Named for the ill-fated rock club of the same name, Temple Beautiful was "made in San Francisco, by San Franciscans about San Francisco." Roy Loney, vocalist and wildman in legendary Bay Area band The Flamin' Groovies contributes guest vocals to the title track.
One of the driving forces behind cult heroes Green on Red and the influential L.A. Paisley Underground scene in the 1980s, Prophet's creative mold was actually cast in San Francisco. Recalls Prophet, "Temple Beautiful is the name of a long closed rock and roll club which was between Bill Graham's iconic Fillmore Ballroom and the tragic storefront church founded by the Reverend Jim Jones. It's where I saw my first gigs."
Inspired by current San Francisco artists, Prophet felt compelled to pay tribute to the history and weirdness that brought him to the city nearly 30 years ago. "There's a kind of rock and roll psych renaissance going on in this town at the moment with bands like Thee Oh Sees, Girls, The Fresh and Onlys, Kelley Stoltz and Sonny and the Sunset's. I'm very encouraged by all this stuff going on here."
Part love letter and part unsentimental tour, Temple Beautiful attempts to capture San Francisco in all its forms: romantic port-of-call, bohemian utopia, but even more so, an often unforgiving pioneer outpost filled with the freaks and characters not welcome in America's heartland. And musically, there is no doubt that San Francisco is one of the country's most enduring scenes, home to decade after decade of classic artists and albums. Temple Beautiful is at once a look back at the inspirations that spawned them and the next installment in its discography.
In addition to releasing two amazing albums in Soap & Water and ¡Let Freedom Ring! over the past several years, Chuck's music has been heard in hit television series True Blood (HBO), Californication (Showtime) and Sons of Anarchy (FX). Prophet also co-wrote all the songs on Alejandro Escovedo's critically-acclaimed album Real Animal.
Website:




Myspace Page: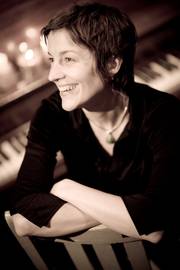 Ashleigh Flynn
Ashleigh Flynn's finest album, American Dream, is alive with stories about down-and-outers, young and old, all still hopeful, as is Flynn, that they can achieve the American Dream.
From Kentucky, Ashleigh Flynn grew up foot stomping along the Ohio River as the steamboats and barges made their way to the muddy Mississippi. An electrifying performer blessed with unbridled charisma and the voice of angel, Flynn has released two previous full-length studio efforts, Chokecherry (2002) and Ashleigh Flynn, self-titled (1999). The Village Voice regards Ashleigh as "A darling of the NW Americana scene", writing: "Flynn adds a smoky soulful voice ... marrying styles such as bluegrass to pop."
Flynn has traveled near and far, touting her tunes, and amassing new fans in markets all over the US & Europe - including month long "up and comers" residencies at The Living Room and Pianos in New York City, and Toad in Cambridge, and a few trips across the pond.
website: