Wednesday, November 14, 2012
Hope Springs (PG-13)

"Beer, Burger, Movie" Night

6 p.m.

Minor with parent or guardian

$3 per person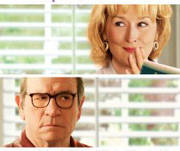 Hope Springs (PG-13)
Kay and Arnold are a middle-aged couple whose marriage has declined until they are now sleeping in separate rooms and barely interact in any meaningful loving way. Finally, Kay has had enough and finds a book which inspires her to sign them up for an week long marriage counseling session.
"Beer, Burger, Movie" Night
Enjoy a beer, burger and the movie for $12 per person, 21 & over only.