Wednesday, November 7, 2012
Resident Evil: Retribution (R)

Early Bird Matinee

12:30 p.m.

Minor with parent or guardian

$3 per person
About Resident Evil: Retribution (R)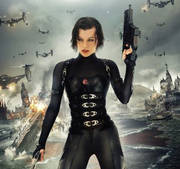 The Umbrella Corporation's deadly T-virus continues to ravage the Earth, transforming the global population into legions of the flesh eating Undead. The human race's last and only hope, Alice, awakens in the heart of Umbrella's most clandestine operations facility and unveils more of her mysterious past as she delves further into the complex.
About Early Bird Matinee
Enjoy the movie, a 1/2 sandwich with soup or salad, plus a non-alcoholic beverage for just $10 per person!