Thursday, November 1, 2012
7 p.m.

All ages welcome

Free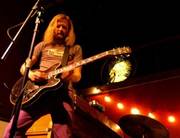 Scott Pemberton Group
Few guitar players are more exciting than Scott Pemberton. He plays his instrument with a passion that is seldom equaled. It is not surprising that he receives comparisons to a wide variety of the greats including Jimi Hendrix, Dick Dale and Grant Green.
A Scott Pemberton Super Band show unfolds like an awesome date. Imagine cool conversation over dinner with the Meters, then drinks and dancing with the Lips, and finally the after-party with James Brown that leaves you sweaty and satisfied. This is no movie date. An evening with Scott Pemberton will be a night to remember.

Native Portlander (Oregon), Scott Pemberton has amassed a loyal following. Fans come out in force to see him play show after show. With a deep catalogue and a mastery of improvisation, every show is different and memorable. With Scott you never know what is next; an unexpected interpretation of a well-known favorite or a captivating original. A Portland area secret no longer, Scott is sure to make the same impact on the rest of the country as he has on Portland's music scene.
To see more videos..:




Myspace:




Official Website for Scott Pemberton:




Facebook: