Wednesday, October 17, 2012
Northwest Film Center presents...

Amy Winehouse: The Day She Came to Dingle [2012]

Reel Music Festival

10 p.m.

21 and over

$9 general; $8 PAM members; $6 Friends of the Film Center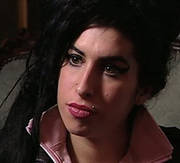 Amy Winehouse: The Day She Came to Dingle [2012]
In 2006, on a stormy December night, Amy Winehouse flew to the remote, southwestern corner of Ireland to perform for Other Voices, an acclaimed Irish TV music series filmed in Dingle every winter. She took to the stage of Saint James' Church, capacity 85, and wowed the small, packed crowd with a searing, acoustic set of songs from Back to Black.
After leaving the stage, the relaxed and happy artist spoke about her music and influences – Mahalia Jackson, Sarah Vaughan, Ray Charles, and The Shangri-Las, to name a few. The BBC's Arena program (see also Tales Of Rock And Roll) joined forces with Other Voices and went back to Dingle to catch up with some of the people that Winehouse met on that day, weaving a program that showcases not only Winehouse herself, but the musical geniuses that inspired her to forge her own jazz pop style.
BBC website:
Reel Music Festival
The Reel Music Festival showcases films that tell the creative, unexpected, and sometimes transformative origins of sounds so infused in our experience. We hope that our annual celebration of sound and image, and music and culture, offers something that will perk your curiosity, warm your soul, and send you scouting for new, and renewed, discovery – whatever your musical tastes.
Northwest Film Center website: