Wednesday, November 14, 2012
Rock Creek Wednesdays

7 p.m.

All ages until 10 p.m.

Free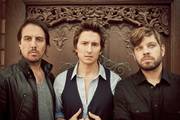 The Northstar Session
You may recognize their music from film and TV, or their recent live performance on NBC's Parenthood this Fall (Season 2; Ep. 2). Most recently called a "combination of CSNY and Ryan Adams," by their fans, The Northstar Session "displays vocal harmonies so tight, you'll swear they're pre-recorded."
"The Northstar Session has the best combination of Wilco's neo-country glow, and Travis' earnest optimism," says LA's Music Connection Magazine. The Santa Barbara Independent says, "Whoever said catchy, straightforward pop-rock couldn't be artfully done, clearly has not heard The Northstar Session."
And Matt Malley, founding member of the rock band Counting Crows, calls this Southern California rock band "brilliant" and "thrilling!"
Originally the artistic outlet of songwriter and guitarist, Matt Szlachetka (Longmeadow, MA) as early as 2005, The Northstar Session didn't become the band you hear today until Szlachetka moved to Los Angeles in 2007 and met up with drummer/songwriter Kane McGee (Los Angeles, CA), and keyboardist/ songwriter, Dave Basaraba (Portland, OR). Since then the three have written and recorded one EP and three full-length records. A prolific song-writing team, they tour tirelessly both acoustic and as an electric band, translating their songs for any size audience/room.
Influenced heavily by the rock and roll sound emanating from Hollywood and the surrounding areas in the 1960s and 1970s, The Northstar Session chose to pay homage to many of these bands by recording two of their albums in studios in historic Laurel Canyon. This "Laurel Canyon Experience" is obvious in their music, and is often reminiscent of styles you've heard before -- pop melodies with creative harmonies and countermelodies that harken back to bands like Tom Petty and the Heartbreakers, Neil Young, The Beach Boys, Delaney and Bonnie, Little Feat and countless others.
MySpace page:




Facebook:




Website: