Thursday, October 25, 2012
Movie Night at McMenamins

The Cyclocross Meeting

with Special Guest

Barry Wicks

9 p.m.

21 and over

$5 per person
Get stoked for the Halloween Cross Crusade weekend in Bend with an encore presentation of The Cyclocross Meeting! Barry Wicks will be in attendance so if you want to beat him out for a door prize you'd better brush up on your cyclocross trivia.
Movie Night at McMenamins raises funds and awareness for Central Oregon Trail Alliance.
About The Cyclocross Meeting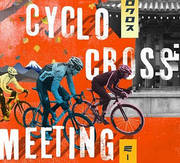 Created by Brian Vernor, this is a beautiful film about the exploding US cyclocross scene, and the emerging Japanese cyclocross scene.
The Cyclocross Meeting follows Barry Wicks and Adam Mcgrath to top U.S. races in New Jersey and Oregon, and then to Japan, where they compete with seven time Japanese National Champion Keiichi Tsujiura, and the up and coming talent Yu Takenouchi. Also featuring 35-year veteran bicycle framebuilder Nakagawa.
Brian Vernor website:




MTB Ambassadors website: