Saturday, November 3, 2012
Happy Hour Music

3 p.m. to 6 p.m.

All ages welcome

Free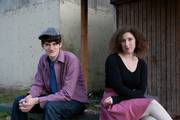 Jonah Luke
Jonah Luke is a singer/songwriter/musician hailing from Portland, OR who plays playful folk-rock with a dash of a cappella and a pinch of sweet harmonies. He is also a recording engineer, producer, and lover of big cities.
Jonah's debut, the I Don't Need You To Know EP, was recorded by Jonah in his college dorm room and self-released to a small but loyal fan base in Portland and Chicago. The title track explores Jonah's love of a cappella and folk music, blending the two styles to create many different sounds with only a guitar, a few shakers, and the human voice. Other songs in the album include Almost Gone and Something Left To Do Here, call-to-action songs written after his experience studying in the Dominican Republic.
Growing up on Chicago's North Side, he was fed a healthy diet of Funk, Cajun, and Paul Simon's Graceland album, and learned to sing and play drums, guitar, piano, and trombone. Jonah started playing in a Cajun/Zydeco band at age 11 and has since been in 4 Rock/Folk bands, 2 orchestras, an a cappella group, and a trombone choir.
At 22 years of age, Jonah has played at some of Chicago's premiere music venues (Millennium Park, The Metro) and participated in 16 studio albums, including 2 with producer Brian Deck. In 2007 his band The Audians was played on Chicago's XRT radio.
Recently, Jonah has graced the stage of Portland's Crystal Ballroom, and opened for renowned singer/songwriter Joe Purdy as well as Portland's Chris Robley & The Fear of Heights. He graduated from Lewis & Clark College in Portland in May 2011. An instrumental piece he composed and recorded appeared in a commercial for Dannon in Super Bowl XLVI.
Official Website:




Myspace Page: