Thursday, November 8, 2012
Laura Ivancie

Steph Infection and The Heebie Jeebies

DNA

8:30 p.m.

21 and over

Free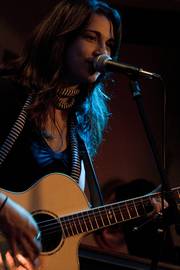 Laura Ivancie
Soul touching and truth telling - Laura Ivancie is seducing hearts and minds of fans in the Portland community with a blend of musical stylings, lyrics and vocal deliveries that are frequently breathtaking. Laura's music is a mix of many genres, including elements of electronic, alternative, folk, rock, country, jazz, blues, and soul. Most often found wrapped around an acoustic guitar, Laura's soulful voice and captivating smile turn her performance venues into a communal living room. A Portland native, Laura has distilled the passions and travels of her 28 years into a seemingly effortless powerful presence that is captivating and infinitely approachable. Attending college in both Southern California and Oregon, her spirit blossomed playing college basketball, fighting fires with the US Forest Service, and song writing, while pursuing her academic program. After earning her degree in Applied Psychology and Organizational Development she hit the road with her guitar, immersing herself in Spanish culture in South America and working briefly in Buenos Aires. Returning to Portland in 2008 music became her focus - and the gift she shares with the world. Her song writing has excelled, and the number of local gigs have grown beyond count. Growing up in a conservative catholic political family has contributed to many of her songs. Her song, "Little Girl" held the #1 spot for 3 weeks straight in the Portland Lilith Fair 2010 songwriting contest. Laura takes from her life experience to create songs that paint images and stir the emotions of those who listen. For one who has only been performing professionally since 2008, this remarkable woman shows a poise and level of skill that is just begging for a larger stage.
MySpace page:
Steph Infection and The Heebie Jeebies
Steph Infection and The Heebie Jeebie's is a ragtag duo consisting of Kelly "The Crusher" Clifton and Stephanie "Rock 'Em and Sock 'Em" Scelza. Bluesy, raunchy, soulful, saucy, and funky as two escaped monkeys. And that's all you need to know about that.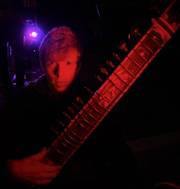 DNA
Our music ranges from ambient, personal, organic, soft Sitar seduction to phat, perfected, beat driven, bass pumping electrobeats. Adventure with us.
Website: