Tuesday, October 9, 2012
Hutson

Met City

Josh and Mer

8:30 p.m.

21 and over

Free
Hutson
"Reland, the seven-song EP from local band Hutson, sounds like the work of a band with many releases under their belt, but it's actually Hutson's first offering. Strutting a swath between road-trip-ready power-rock and alt-country, they've found a sound that will please fans of Richmond Fontaine and Ted Leo equally. "AM Station" has a flitting, über-catchy guitar riff, while "Dying Dreams" is sweetened by some heart-achy pedal steel-as is the desolate "Failing Street," proof that Hutson can handle the dust-broom acoustic ballads as well as the uptempo rockers." --Portland Mercury
Website: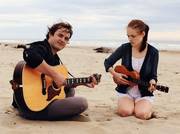 Josh and Mer
Songwriter Josh Schroeder and actress Meredith Adelaide met one cold and very early fall morning at the Little Nestucca River, in Oregon 2010. The two were on set as actors for a Levi's spec ad that featured the backdrop of the beautiful NW and were called to action in a scene where Josh serenades Meredith in a tree. Trying to keep their minds off the cold between takes, Josh and Mer began talking about art, life, music and their love of Portland, OR. They soon discovered that their common interests and ideas were a match, and shortly after began their artistic collaboration.
Josh has always had a deep love for the music of The Beatles, Jeff Buckley, and Elliott Smith. Meredith's musical tastes span from the influences of Simon & Garfunkel, Daft Punk, and Ella Fitzgerald. And so, the two went about conjuring up their own music while filming and photographing the entire process of creation.
"We're always trying to one-up each other with concepts, visuals, and sounds," says Meredith of their creative process. "We each bring something to the table that the other couldn't do alone, and that's why it works," says Josh.
Blending their love of music with film, photography, and the Portland lifestyle, Josh and Meredith developed a concept to showcase their collaborative efforts and their work as individual artists. They joked at themselves being "hipsters" and created a blog they call "Hipster Decadence." They keep fans, friends, and colleagues up to date on their creations of music, low budget recipes, and personal experiences.
The duo released their full-length album, "Planet Music" on Oct. 4th 2011. It is available through their website, iTunes, Amazon, CDBaby, and Music Millennium in Portland, Oregon. Josh and Mer recently composed the network theme song for the BBC Kids Channel in Canada and they lent their voices, instrumental talents, and production style to the recording of the theme song.
Official Website: