Wednesday, October 10, 2012
7:30 p.m. doors; 8 p.m. film

21 and over

Free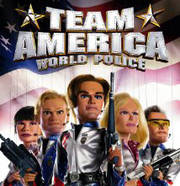 Team America (R) [2004]
Freedom hangs by a thread.
The North American anti-terrorist force Team America attacks a group of terrorist in Paris. Later, the leader of the organization, Spottswoode, invites the famous Broadway actor Gary Johnston to join his World Police and work undercover in a terrorist organization and discover their plans for destroying the world.
From Trey Parker and Matt Stone, the creators of <i>South Park</i>.