Saturday, November 10, 2012
The 11th year of...

Miz Kitty's Parlour

Miz Kitty

Hapa Hillbillies

Portland Rhythm Shakers

Steve Cheseborough

Charlie Brown

The Gold Diggers

6 p.m. doors; 7 p.m. show

21 and over

$12 advance; $15 day of show
The season 11 kick off of Miz Kitty's Parlour Vaudeville Novelty Show & Revisical is Saturday, October 13th! Join us at the Mission Theater as another season of Music, Magic, Song, Dance, Theater, & Spectacular Entertainment begins!
The Talent

HAPA HILLBILLIES
Swing, Swing, that Jazz Hawaiian Thing!
http://www.benbonham.com/?section=news
PORTLAND RHYTHM SHAKERS
Sweet, Saucy, 1930's style Dancin' Darlings!
https://www.facebook.com/PortlandRhythmShakers?ref=ts&fref=ts
STEVE CHESEBOROUGH
Master of the 20's & 30's Guitar Stylings!
http://stevecheseborough.com/
CHARLIE BROWN
Juggling to Thrill, Please and Amaze!
http://www.amazama.com/charliebrown/
THE GOLD DIGGERS
Old Time String-band Shenanigans!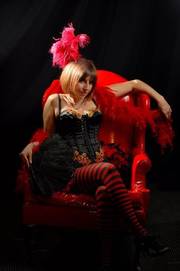 Miz Kitty
Taking the 21st century audience into the realm of the Alaskan Gold Rush, genuine Vaudeville acts and music in the spirit of true Americana, Lisa Marsicek aka Miz Kitty will be your seasoned and spirited guide for a night you will never forget!
Every month will bring bits, schtick and musical acts bound to astound, astonish and thrill you! Song & dance, comedy & theatrics, string bands, classical & eclectic; the outrageous & the delightful variety of acts combine to tickle and entertain.
Lisa Marsicek has been entertaining Portland audiences as the singing, clog dancing fiddler in the popular Flat Mountain Girls stringband for several years. She also plays fiddle with the Sassparilla Jug Band. Her Victrola & 78 RPM record collections have also been featured in the Portland Tribune.