Saturday, October 27, 2012
Portland Erotic Ball 2012

Keegan Smith and The Fam

Pepe & The Bottle Blondes

The Slants

Hosted By Sasha Scarlett

DJ Jub Jub

8 p.m. doors

21 and over

$39 general admission, $69 limited VIP, includes hosted bar
Portland's biggest (costume mandatory) party for the kink set welcomes adult audiences interested in the sexy side of the scare. Entertainment includes Pepe & The Bottle Blondes, Keegan Smith and The Slants, hosted by Emmy-nominee Sasha Scarlett. The revelers will also get the chance to see aerial acts and six demonstration stages, as well as the chance to win $5000 in cash and prizes given out during the costume contest including Most Original Costume, Sexiest Couple and Best Group.

For additional details, please visit www.portlanderoticball.com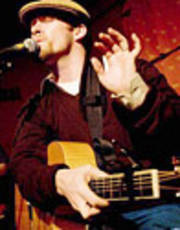 Keegan Smith and The Fam
Portland, Oregon native Keegan Smith has been a staple of the Pacific Northwest music scene for the last 5 years. He recently won landslide victories for Male Artist of the Year and Best Live Performance at the 2009 Portland Music Awards. In 2009 Keegan released his fourth studio album entitled Special Delivery.
Keegan has developed a thriving east- and west-coast following since first hitting the stage in 1999. His grassroots approach has brought him from playing solo acoustic around campfires in the Pocono Mountains of Pennsylvania to main-stage, festival performances backed by a 12-piece band in his hometown of Portland.
He released his third studio album and collaborative effort, Hybrid, in 2008 to a sold out room at McMenamins Mission Theatre. His band, "The Fam" is an eclectic mix of musical heavyweights, producers, and bandleaders from the Northwest's thriving music scene. Together they create an energetic and entertaining sound that mixes pop, reggae, funk, and soul that has captivated audiences of every age. Portland's Willamette Week reviews the Fam saying, "[their] stuff is like musical summer" and "life's a little sunnier when listening to them."
website:




Myspace page:
Pepe & The Bottle Blondes
Created in October 1995 to bring back the 'Copacabana style' dinner theater enhanced with the costuming, make-up and percussion and beat of Latin rhythms, Pepe & the Bottle Blondes created a strong and stimulating visual stage performances not to be missed.
Pepe Raphael successfully blends dance, opera and musical theatre experience with his 'original songwriting' and 'comedic' wit to deliver a fresh and innovative performance. His piquant pulsations have taken him from Madrid (where he was born) to New York City (where he performed) to Portland (where he now lives).
Pepe & the Bottle Blondes eclectic, 'Copacabana style' ensemble of saxophones, congas and percussion, trumpets, and three-part harmonies combines the talent and visually arresting performance that echoes the indulgence of the 1950s nightclub chic.
website: