Sunday, October 14, 2012
Widow's Weekend Beer Tasting

Pre-release of 2012 Black Widow

plus 5 other seasonal brews:

Black Widower

Sleepy Hollow Nut Brown

Lil' Monster Pumpkin Ale

Pirate Pole-Ax

Thundercone Fresh Hop

11 a.m. 'til late

All ages; 21 & over to taste

Free admission; Taster trays available for purchase
To celebrate the release of the 2012 Black Widow, brewer Jennifer Kent will present guests with a special taster tray of Black Widow Porter and 5 other seasonal beers for $7.50.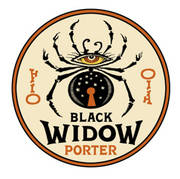 Pre-release of 2012 Black Widow
Black Widow Porter
Originally created at the Thompson Brewery over 20 years ago on October 15, 1991, and made once a year by all Thompson Brewers to come after that, Black Widow has become an expected and welcome Halloween treat at the Thompson Public House in Salem. This year, however, Black Widow's web has enveloped the entire company, as every McMenamins brewery made a batch this year. Each deep-black goblet of Black Widow is packed full of the robust notes afforded by generous amounts of black and roast malts and further spirited with ethereal wisps of caramel and licorice. Both substantial and sublime, this elixir is sure to slake the most fiendish of thirsts. Open up a creaking pub door, find a seat with friends and family andnourish your inner ghoul with a brew steeped in tradition and mystery. A good howl at the Cheshire moon couldn't hurt, either.
Malts: British Pale Malt, Munich, Flaked Barley, Wheat, 135/165 Crystal, Black and Roast
Hops: Nugget and Sterling
Additional Ingredient: Licorice Root
OG: 1.074 TG: 1.017 ABV: 7.35% IBU: 38 SRM: 38