Saturday, November 3, 2012
A Lonely Place For Dying (NR)

Meet the Director

Justin Eugene Evans

10:15 p.m.

21 and over

$7 per person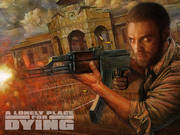 A Lonely Place For Dying (NR)
Director Justin Eugene Evans will be in attendance for all screenings.
It is 1972. An abandoned Mexican prison sits alone in the dusty Chihuahua desert. KGB mole Nikolai Dzerzhinsky waits for his contact from the Washington Post. Dzerzhinsky holds explosive evidence against the CIA; information he will trade for asylum in the United States. Special Agent Robert Harper must obtain this evidence and kill Dzerzhinsky or risk the end of his CIA career. As the two men hunt each other they discover that the sins from their past destined them for this deadly confrontation.
• • •
A Lonely Place For Dying has been honored at festivals across America and praised by both critics and audiences alike. The film has been an Official Selection of 46 festivals, been nominated for 51 awards and won 27 including 18 as Best Picture.The film has won awards at Santa Fe, Durango, Flipside, Cinema City, Eugene, Wild Rose, The Maverick Movie Awards, S.N.O.B., Best of Fest, and Beloit. This is particularly odd because A Lonely Place For Dying isn't a typical festival film. It isn't artsy or avante garde. It's simply a well crafted story. In fact, it's attention to craft has often put it at a disadvantage amongst film festivals. White Sands International Film Festival removed it from competition and gave it a showcase slot alongside star-driven films with budgets ten times it's size. For them, competition was reserved for first time filmmakers with limited resources – which perfectly described A Lonely Place For Dying's filmmakers but clearly didn't fit their assumptions about the finished film.
Audiences and critics across America agree. "Lonely Place For Dying is a prime example of what independents can and should be... I can't help but shower this film with praise," said Daniel Boyer of Critical Corner. "Keeps you on the edge of your seat the entire time!" said Lynda Martin of CW San Diego 6. "Solid Acting and high production values make this first-time-out-of-the-gate indie film well worth your time," said Rob Raucci of KUNM 89.9 FM.
• • •
Film Website:




imdb:




trailers: