Thursday, October 11, 2012
7 p.m.

All ages welcome

Free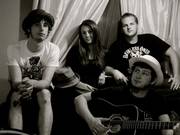 Harley Bourbon
The formation of the band began when Collin Rhoton met John Forrest in Ocean Shores, WA (a small beach town three hours west of Seattle, WA). Collin had moved to Ocean Shores from Seattle where he grew up listening to all sorts of punk rock. John made his way to Ocean Shores from Bend, OR and Mossy Rock, WA. The two of them instantly began fusing their music together around camp fires on the beach.
In 2010 John Forest and Collin Rhoton moved to Bend where they met Maxine Roach. They all became great friends. Maxine would jam with the band, and it was such a success the boys asked her to compile songs with them and that was the moment that Harley Bourbon was formed, but not completely.
The band played a few shows with Boxcar Stringband. Harley Bourbon was so impressed with the sound of Casey Cathcart and his upright bass that they asked him to join. Casey loved their sound as well and immediately accepted the invite and that is the moment that Harley Bourbon was complete.
Harley Bourbon music has strong Outlaw Country and Punk overtones, but they have also been known to perform Folk Irish originals, with the energy of a Punk band. But this band cannot be described adequately using any particular genre or definition. They can be found anywhere from back yards & dive bars, to big venues and festivals.
ReverbNation:




Facebook: