Thursday, October 4, 2012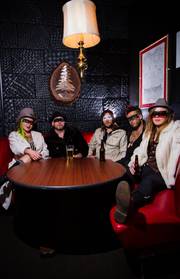 Worth
Christopher Worth didn't start singing until he was 20 years old. "It was almost like it came overnight," Worth says. Auditioning for a college rendition of West Side Story on a whim, he was accepted in an ensemble part that required singing and dancing. "Since I was young I'd always been fascinated by the stage and performance…it wasn't until college that I got to really explore this, and that's when my voice came. I wanted to be an actor before I was a singer." Within several months of rehearsals and a couple sessions with the vocal coach, Worth's abilities as a vocalist and performer expanded into something he hadn't expected. "It was as if I'd found my purpose on stage." By his senior year he'd joined an a cappella group, played the male lead in several other musicals, and begun writing songs.
In the years after college Worth bounced from the bay area back to his hometown of Portland, OR to pursue opportunities as a singer/songwriter there. He didn't truly find his home musically, however, until he met the future members of the band NIAYH (Now Is All You Have). "I love playing alone, but I always knew my focus would be in some sort of group," Worth says. Since the bands formation in 2007, NIAYH has released one full length record and toured extensively through the entire US at venues such as the Crystal Ballroom (Portland), Moe's Alley (Santa Cruz), and The Gothic Theater (Denver). The band often draws comparisons to Pink Floyd, although this comparison is more indicative of their ethos than their musical style. "We are a rock band at heart, but there are deep r&b, funk, psychedelic and latin influences there that are equally important." Worth plays keys and sings in the band as well as collaborating on songwriting and composition.
Worth describes his solo music as "bohemian blues hop." Often resorting to busking for artistic grounding, he claims to have developed most of his vocal style and performance ability on the street. "There's nothing like playing on a street corner day in and day out to get you into shape and ground you as an artist." To the listener his voice evokes an intense emotional response, even a full body experience. It is simultaneously timeless and new, recalling contemporary influences like Jeff Buckley, Martin Sexton, and Amos Lee and classics such as Paul McCartney and Stevie Wonder. The songwriting is eclectic and infuses lyrical depth with memorable melodies. "I like to think of myself as equally a singer, instrumentalist, songwriter, and performer and I try not to be limited by any definition of genre. It's all music."
In the past year, Worth has collaborated with the likes of Russ Liquid, Saqi, Unkle Nancy, and Marv Ellis on a variety of recordings and live performances. He is currently based in Portland and splitting his time between solo music, NIAYH, and a variety of other collaborations. His debut release, "Six Foot Soul," is currently being recorded for release in early 2012.
Facebook:




Official Website:




Myspace: