Saturday, October 27, 2012
Buoy LaRue

Plus Extra Saturday Goodies

7 p.m.

21 and over

Free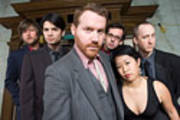 Buoy LaRue
Creating lushly orchestrated rock songs that range from sweetly ethereal to symphonically head-banging, Portland-based six-piece chamber-rock outfit Buoy LaRue is able to meld classical training with a rock upbringing. It features front man Michael Herrman on guitar and vocals, Adam Hoornstra (Oregon Ballet, Eugene Symphony) on viola, Adam East (Sweetjuice, Casey Neill) on piano, Keiko Araki (Oregon Symphony) on violin, Steve Drizos (Jerry Joseph and the Jack Mormons) on drums and Will Amend (Echo Helstrom) on bass.
The band's warm, melancholy, string-laden CD was brought to life at a haunted building in North Portland, an abandoned Masonic temple, by the hands (and ears) of engineer/producer Jim Brunberg from Mississippi Studios.
"[Buoy LaRue] is an unorthodox band, so it made sense to record them in an unorthodox place--why not an old haunted building with decaying walls and fire damage?" Brunberg notes. "They are adventurous souls."
Illuminated by candles and "warmed" by small and ineffectual space heaters, the band played through the night and through the cold in fingerless gloves and enough layers to rival that kid in A Christmas Story. And it payed off.
Spin Out of This unfolds stunningly from the sweet "Blues and Cries" to the melancholy regret of "Feeling So," and ends with "All of This," a gorgeous testament to learning from the past and surrendering to the future. And the single, the album's title track, beautifully conveys the excitement and confusion of a tempting situation best ended sooner rather than later.
"Their arrangements are as strange and beautiful as the settings," Brunberg concludes. "The songs came to life and evolved as we progressed. This record was nurtured by the burnt-out hull of a turn-of-the-century landmark that had previously sat cold and unloved. The music was more than enough to warm it up."
MySpace page:




Website:
Plus Extra Saturday Goodies
You like beer, right? And free food? And getting to know, you know, cool people? Well every Saturday night at Al's Den, we'll have generous samples of a special, limited-release beer from the Crystal Ballroom Brewery, plus free passed appetizers from Zeus Café (we ain't just talkin' tater tots here, either) and a live interview with the band. Come check it out -the food & drink are divine, the crowd is friendly, and the energy is buzzing.