Thursday, October 25, 2012
10:30 p.m.

21 and over

Free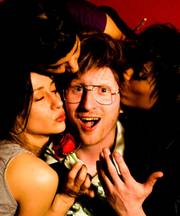 The Ed Forman Show
"Imagine Stephen Colbert as a libidinous sociopath!" -Willamette Week. That's Ed Forman! A boozy, polyester clad, selfish self-help guru and late-night talk show host who performed weekly in PDX at Dante's for 4 years, before relocating to Los Angeles in 2012.
Forman, the alter-ego of actor/comedian Aaron Ross, is only one of the many characters that Ross will transform into over the course of an evening. "Ross' lacerating wit and bottomless energy make for a hilarious evening great gags and public humiliation." -WW
July 2012 saw The Ed Forman Show perform for Comedy Central at the Hudson Theater in Hollywood, and in August they will be performing at the "Out of Bounds Comedy Fest" in Austin, TX.
Each of these seven Ed Forman Shows at Al's Den will feature brand-new EDspirational comedy, a different celebrity EDterview, and EDceptional jazz-funk music from Ed's house-band THEM! THE BAND!
Website: