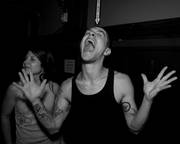 The Sale
The Sale is the brainchild of Portland, OR based singer/songwriters Bre Paletta and Justin Bennett, two independent thinkers who fell in love and started making beautiful music about the human experience.
With poignant, piercing honesty and bittersweet reflection, the pair's songs speak to the joy and pains of everyday life that can't be captured in everyday expression. Abundant and pressing at the seams with vivid metaphor and insightful wisdom, they let you see who they are and give you a glimpse inside yourself.
Rounding out these two is a swoon-worthy rhythm section. Devoted friends, gifted musicians and assets to the dynamic sound, drummer Chris Lay and bassist Michael Dougherty's dual intuition and chemistry bring drive, nuance and that extra kick in the pants. Long-time cohort, multi-instrumentalist Todd Bayles also accompanies on occasion as well as a rotating cast of players on an array of different instruments.
With musical roots in the staples of the 70s, 80s and 90s, The Sale draws influence from innovative heroes like Fleetwood Mac, Michael Jackson, Sade, and Bob Marley. Their respective formative years were a flurry of melodies and old vinyl, having been blessed with musical or music-loving parents.
These passionate artists bring energy and intensity to every performance to captivate listeners and evoke powerful emotion. Quickly becoming a mainstay in Portland's diverse music scene, The Sale is on a mission to heal the soul through music and community.