Saturday, October 6, 2012
9:30 p.m.

21 and over

$8 advance, $8 day of show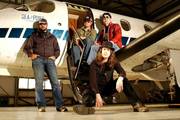 Broken Soviet
Broken Soviet is a modern, American Rock & Roll band from Portland, Oregon.
The band consists of vocalist Dors Ward, guitarist Lawrence Anthony, bassist/synthesist Erik Martin and drummer Evan Rose.
Formed in the fall of 2007, the members of Broken Soviet are dedicated to expressing their classic rock roots as well as exploring divergent genres in their overall sound. Quickly becoming a local favorite, the band has attracted an enthusiastic following from Seattle to Hollywood. Subscribing to the concept that less is more, Broken Soviet writes music that is accessible to a wide audience that crosses generational boundaries. Broken Soviet's following is rooted in more than the music. The band gives back to their audience in sweat and emotion with high energy live performances.
website: