Saturday, October 20, 2012
4:30 p.m.

All ages welcome

Free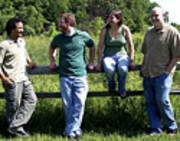 The Student Loan
The Student Loan is an eclectic four-piece bluegrass/newgrass band, originally from Bowling Green, Ohio and now located in Portland. Mixing elements of traditional bluegrass and folk music with elements of rock, jazz, and blues, The Student Loan has a sound that defies genre and is both familiar and new. With original songs and a vast library of covers from groups as diverse as Bill Monroe, The Beatles, Phish, and Sublime, The Student Loan will please just about any audience.
Notable appearances include the 2008 Appalachian Uprising Bluegrass Festival, The Black Swamp Arts Festival, and headline appearances at The Quarry Breakdown music festival in Bowling Green, Ohio and the 2008 Bluegrass Bash in Medford, Wisconsin. The Student Loan has appeared with national and regional acts including County Line II, eKoostik Hookah, The Sierra Leone Refugee All-Stars, Alejandro Escovedo, The Ragbirds, Back Forty, The MacPodz, and The Blind Corn Liquor Pickers. The band was most recently featured in Larry Keel's All-Star Band at Appalachian Uprising 2008, opening up for festival headliner Sam Bush. Popular media appearances include "Live from Coffee Amici" on WBGU-television, a segment of "Toledo Idol" on FOX Toledo, and several live performances on 88.1 WBGU-FM radio in Bowling Green. Their first album, "Wake Up to The Student Loan", was released in December of 2006, followed by their sophomore effort, "A New and Different Life," in June 2008.
Formed in the spring of 2005, The Student Loan synthesizes a wide array of musical styles and backgrounds. A formally trained composer, percussionist, and violinist, West Virginian mandolinist Chad Kimbler blazes a trail of furious picking, and guitarist and fiddler Liz Chibucos, a Bowling Green, Ohio native and avid songwriter, brings to the table a wealth of jazz, classical, and rock influences. Banjo player and guitarist Mark Gerolami of upstate New York draws upon a rich background of folk, western, and world music, and seasoned rock, gospel, and jazz bassist and Tacoma, Washington native Julio Appling lays down a solid foundation and more than holds his own as a soloist.