Friday, October 12, 2012
Opera Theater Oregon presents

The Old Maid and the Thief

6:30 p.m. doors; 7:30 p.m. show

Minor with parent or guardian

$17 advance; $20 day of show; $14 students and seniors; 12 and under free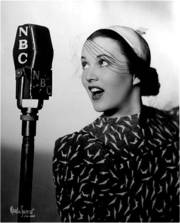 The Old Maid and the Thief
Travel back in time as we transform the Mission Theater into the "KQAC 89.9 Radio Studio," circa 1939, for a live, vintage-style recording of Menotti's one act opera about small-town gossip, temptation, and what it means to be a single woman who isn't getting any younger. Relax with a meal and a Gin Fizz and witness the hijinks and high drama of the radio days of yore. Will the diva maintain her composure long enough to finish her aria? Can the foley artists keep up with the script? Will the band threaten to quit after missing their union smoke break?
Starring Christine Meadows as Miss Todd, Audrey Sackett as Laetitia, Erik Hundtoft as Bob and Lisa Mooyman as Miss Pinkerton. Accompanied by the KQAC Radio Band and featuring live foley effects from Willamette Radio Workshop. Directed by Kristin Heller. Musical direction and arrangements by Erica Melton. Featuring a screening of an original film short from OTO Film Director Jen Wechsler.
What rhymes with "anti-booze?" Who was Hedda Hopper? How much did gasoline cost in 1939? Come to the show and find out!
For low convenience fees ($1 per ticket), purchase tickets in person at the Crystal Ballroom or Bagdad Theater box office.
About Opera Theater Oregon:
Opera Theater Oregon is a 501(c)3 nonprofit devoted to making opera "Safe for America." We feature innovative and entertaining operatic performances at surprisingly affordable prices, proudly featuring local talent and presenting in comfortable venues where you can relax, enjoy a meal or cocktail, and engage with opera on an intimate level.We are thrilled to be a resident opera company at the Mission Theater. There's not a bad seat in the house, and you can pair your opera with a meal and a cocktail or McMenamins brew.
Our surprisingly low ticket prices cover only 25% of expenses. Please support arts accessibility for all and consider making a tax-deductible donation to Opera Theater Oregon today!