Wednesday, October 31, 2012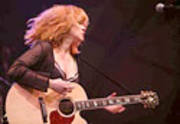 Kris Deelane
" ... the exceptionally fine and diverse vocals of Kris Deelane." -- Abilene Reporter-News Weekend, Abilene, Texas
Raised in suburban Los Angeles during the punk rock era, Deelane's influences were diverse - from The Beatles and Neil Young to The Pretenders, X, and The Plasmatics (Wendy O. Williams was a favorite). The sense of righteous defiance coupled with a tragic flair resonated in her, and continues to inform her music, art and style.
Deelane started her music career in college as keyboardist and singer in an Andrew Sisters-meets-B52s group called Alice, I Wonder. In 1990, she toured the Soviet Union singing in a production of Fiddler on the Roof. When she got back to LA, she got behind the drums for the first time in the band Slaughterhouse 5, and played bass in the ska band Timeboy.
Deelane went on to sharpen her songwriting and guitar skills on many tours with the nationally-acclaimed acoustic rock duo Adam & Kris. She took a break from the duo in 2000 to play guitar and percussion on tour with a reggae group that included the legendary Fully Fullwood, Rock Deadrick and Jawge Hughes.
In SweetJuice, Deelane alternated between guitar, drums and bass, while her vocal qualities earned her guest recording spots with nationally acclaimed groups the Decemberists and Jerry Joseph and the Jack Mormons.
More recently, Deelane has been putting her energy and vocal talents into developing her solo career. She's now in the process of playing lots of music, writing new material, and putting together the Kris Deelane Band. Be on the lookout for a performance of the KDB at a venue near you, because the girl can't help it that she likes to rock.
website: