Saturday, October 13, 2012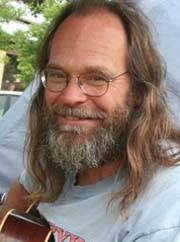 Matt Meighan
Matt Meighan began performing in Chicago while still in high school in the 1960s and has since traveled the world with his music. He's played on the street corners of New York City, Melbourne, Australia, and Venice, Italy, and has regularly brought his songs to the pubs of Ireland over the past ten years.
In Boulder, Colorado, Meighan founded the Boulder Song Circle, co-founded and hosted the weekly Acoustic Brunch songwriter's showcase, and performed regularly along Colorado's front range. He and his wife Nancy currently live in Portland, Oregon.
Meighan's musical heros include Woody Guthrie, Lightnin' Hopkins, Mississippi John Hurt, Townes Van Zandt, Lucinda Williams and Utah Phillips. His original songs range from the personal to the political and from humorous to serious. Along with his originals, he performs songs from the American folk and blues traditions as well as songs by other contemporary singer-songwriters.
website: