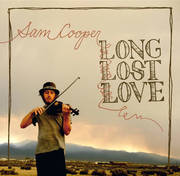 Sam Cooper
After several years as a member of three nationally-acclaimed bands - Horse Feathers, Jared Mees and Sean Flinn - musician Sam Cooper has gone rogue, channeling his multi-instrumentalism into a truly solo album titled, "Long Lost Love". Like a prism breaking a beam of white light into its multitudinous parts, his poetic, metaphorically-dense songs unwind on the album with complex layers of self-harmony backed by himself on a dozen multi-tracked instruments, with assistance from drummer Nick Werth. His mastery takes the phrase "multi-instrumentalist" to impressive excess: guitars, piano, violin, accordion, banjo, bass, organ, mandolin and even the charango (a kind of Andean lute). Oh, and he sings, too.
Sam will host a "CD release week" at Al's Den featuring different guests each night from notable bands, culminating in his own full band performance - Sam Cooper & the Earthquakes - on Saturday, September 29. Each night promises pure entertainment, where Sam Cooper, the consummate entertainer, will engage and delight the audience with a natural kind of charisma and charm. Guests will include:
9/23 - Ben Meyercord (Y La Bamba)
9/24 - Payne and Money (Wayward Vessel)
9/25 - Paul Laxer (Typhoon)
9/26 - Mimi Naja & Jay Cobb Anderson (Fruition)
9/27 - Matt Harmon & Kali Giaritta (Ascetic Junkies)
9/28 - Omni Omnibus (Ah Holly Fam'ly)
9/29 - Kim Delacey and The Petite Beat
Throughout 2012, Sam has been playing solo around town while building up a full band, an organically-grown assemblage of musicians featuring Jake Maynard on guitar/vocals, Jake Hershman on bass/vocals, and Nick Werth on drums/vocals. Like their seismic namesake, Sam Cooper & the Earthquakes aim to spread throughout the Northwest, leaving Richter-scale musical aftershocks in their wake...
Website: