Thursday, October 4, 2012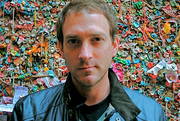 Andrew Paul Woodworth
Andrew Paul Woodworth just moved back to Portland after spending 22 years in Los Angeles. Signed to Sony Records in the late 90's, Woodworth's first album, with the band Elephant Ride, was produced by legendary bassist, John Paul Jones (Led Zeppelin). Woodworth also spent several years in LA staple rock outfit, Virgil. He was honored with the award for Male Vocalist Of The Year at the LA Music Awards in 2006 and Virgil also won the award for Independent Album Of The Year.
In 2007, Woodworth was signed as a solo artist by Rodeostar Records (Germany). He released his second solo album, Eddy Ate Dynamite in 2008 and he toured extensively throughout Europe opening for such acts as Deep Purple, Ida Maria, Maroon Five, Thin Lizzy and Sheryl Crow.
Woodworth's re-imagined version of The Beastie Boys', Fight For Your Right, was used on the WB television series, One Tree Hill. His music has also been heard on Buffy The Vampire Slayer, ESPN, Fox's Roswell and on Scrubs. Featured in Woodworth's band are Brian Harrison (guitar, vocals), Chael Emmett (bass, vocals) and Mike "Woodman" Johnson (drums). Woodworth's music is best described as "street folk indie rock."