Sunday, October 14, 2012
Northwest Film Center presents...

The Portrait Of Billy Joe [2004]

Reel Music Festival

7:30 p.m.

21 and over

$3 per person; Free with a ticket to the live Billy Joe Shaver show on Oct. 16
** Don't miss Billy Joe Shaver live in concert here at the Mission Theater on Tuesday, October 16, 2012. **
[Get the details...]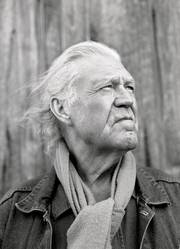 The Portrait Of Billy Joe [2004]
The documentary Portrait of Billy Joe illustrates how the 63-year-old country music singer/songwriter uses words and music to reflect the often-difficult experiences in his life. The film chronicles his humble beginnings in Corsicana, Texas, where he survived an abusive father, was raised by his grandmother and worked on his uncle's cotton farm.
Billy Joe's talent with words was first recognized at the age of 14 when an English teacher read his poem "Space." The acknowledgement of what Billy Joe calls his "gift" was a pivotal moment in his life. Billy Joe's life continued to be full of tragedy, but music provided a place for him to put his pain as well as his triumphs. Billy Joe speaks of the death of his wife, whom he married three times, as well as the loss of his son who died of a drug overdose shortly after the death of his mother. As a young man, Billy Joe also abused drugs and alcohol but cleaned up with the help of his religious convictions. His life is a journey of survival and transformation.
Visit portraitofbillyjoe.com for more details.
Film website:
Reel Music Festival
The Reel Music Festival showcases films that tell the creative, unexpected, and sometimes transformative origins of sounds so infused in our experience. We hope that our annual celebration of sound and image, and music and culture, offers something that will perk your curiosity, warm your soul, and send you scouting for new, and renewed, discovery – whatever your musical tastes.
Northwest Film Center website: