Friday, October 26, 2012
80s Video Dance Attack Halloween Party

sponsored by 97.1 Charlie FM

8 p.m.

21 and over

$8 advance; $10 day of show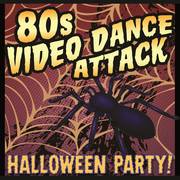 80s Video Dance Attack Halloween Party
80s Video Dance Attack most frightening Halloween spectacular yet will take over The Crystal Ballroom and Lola's Room. Dress up and experience a spooky night of some of the darkest hits of the 80s in front of giant video projection screens. VJ Kittyrox will mystify your senses and fulfill your ghoulish desire to dance and feel the energy of 80s Video Dance Attack's eeriest show of the year!
The foulest stench is in the air
The funk of forty thousand years
And grizzly ghouls from every tomb
Are closing in to seal your doom
And though you fight to stay alive
Your body starts to shiver
For no mere mortal can resist
The evil of THE THRILLER!