Thursday, August 9, 2012
High Desert Museum Natural History Pub

"Wintering Merlins and Raptor Migration" with Bruce Haak

6 p.m. doors; 7 p.m. event

All ages welcome

Free
For the past several years, Bruce Haak has been studying three subspecies of Merlins wintering in southwest Idaho. Bruce's research interests also include raptor migration. Beginning with conventional VHF transmitters, Bruce and his colleagues graduated to satellite telemetry (PTT transmitters) in 2009. Data are now yielding surprising winter and summer destinations for both radio-tagged Cooper's Hawks and Red-tailed Hawks.
Bruce is a recently retired wildlife biologist with the Idaho Department of Fish and Game. During his career at the agency, he worked with nongame, threatened and endangered species. A graduate of Oregon State University, Bruce conducted one of the early radiotelemetry studies of the Prairie Falcon for his Master's thesis in Wildlife Science. His book, Pirate of the Plains, is a natural history account of Prairie Falcons and the high desert environment of the Pacific Northwest. Later, he was involved with Peregrine Falcon reintroduction and population monitoring.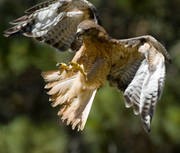 High Desert Museum Natural History Pub
Join us for beer and history, sponsored by the the High Desert Museum, Des Chutes Historical Museum, the Oregon Encyclopedia, and McMenamins, in which you'll hear lively local and regional history while you enjoy a frosty pint or two of handcrafted ale.
High Desert Museum Website:




Des Chutes Historical Museum: