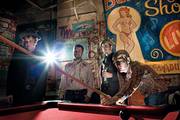 Woody Pines
"Woody Pines brings that low-key street corner style of performance to his stage show, but with all the polish and seasoned professionalism of a tour-bus-and-green-room rock stardom....."
What is a Woody Pines...?
Crackerjack musicianship goes a long way toward a band's greatness, but showmanship seals the deal. Pines, on stage, is an old soul and natural performer, storied and steeped in the best of American music. Live, the group infuses a hundred years of American music into their performance - everything from early 20th century acoustic blues and Rock-a-billy, to the sounds of the White Stripes and The Black Keys. They'll even drop some hip-hop vibes in the mix. It's a fast-paced, swinging, high-energy show.
"It's kind of an alter ego, both a band and a person."
The Band includes Zack Pozebanchuck on Upright Bass, Lyon Graulty on Clarinet, Lead Guitar and Vocal Harmonies, Mike Gray on Drums, and Woody on Guitar, Harmonica and Vocals. They create a Rock-a-billy, Halloween hootenanny that could have come straight out of a time traveling vaudeville show. Their song "Counting Alligators" puts listeners straight into the backseat of a convertible with Doctor John and Professor Longhair, whipping around the back roads of the Delta on a crisp, autumn night. Several other songs by the band, such as "Nashville" and "Delta Bound", evoke thoughts of a Southern gossip or a post-Civil War America where the blues weren't just a style of music, but a way of life. "We pick and choose the best sounding music in the world," says Pines, "and sing our own words and put our hearts and souls into that backdrop," thus creating a truly unique, and infectious style, never heard before...
Grab your girl, your pals, tape your soul on your sleeve and go see this band!
Website: