Wednesday, October 17, 2012
7 p.m.

All ages welcome

Free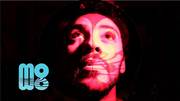 Mosley Wotta
MOsley WOtta is not your typical rap act. With a driving message of unity, humor and acceptance, Mosley WOtta aka MOWO aka Jason Graham is well worth the trip, cost of admission or attempts to sneak in for free. Since his Bands official launch some 2 years months ago MOWO has opened for such influential Hiphop acts as Gift of Gab, Tricky, Ice Cube, Shabazz Palace, Talib Kweli, and The COUP As well as Pat Travers, Toots and the Maytals and Los Lonely Boys . His Band was voted best local music act in his home town of Bend Oregon. Graham is a receiver of the Arts Beautification and Culture award. As a poet Graham was an invited speaker on the "Mixed experience Panel" with New York Times bestselling author Heidi Durrow. MOsley WOtta was also a recently featured artist on Oregon Art Beat for his Writing Painting and Music. MOsley WOtta will be participating in the McMenamins Great Northwest Music tour in October 2012. His two front teeth are chipped from chewing on pens. His vision is perfect when he wears glasses and he almost always puts the lid down. MOsley WOtta is an honest performer, a captivating artist and dedicated father. If Top Forty music was based on exploring our commonalties and celebrating our differences MOsley WOtta would be a chart topper.
For other self aggrandizing remarks check MOWO out on facebook , or mosleywotta.com (links below).
Or
You can contact his grandmother who brags about him to anyone she meets. You will find her at the library gift shop where she volunteers weekdays.
*all grammatical punctuation spelling, formatting ; errors excetra are done intentionally in hopes that it might lead to a greater understanding of your Self :) Peace MOWO lol
Website:




Facebook: