Thursday, October 4, 2012
Second of two nights with

Dirty Three

Scout Niblett

7 p.m. doors, 8 p.m. show

21 and over

$25 advance, $25 day of show | $40 for two-day ticket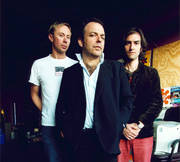 Dirty Three
Cinder marks the 7th studio album in 14 years from instrumental band Dirty Three. It was conceived on Phillip Island, in South Eastern Victoria, Australia in the summer of 2005. The Island is home to the very wonderful Mutton Bird and the Fairy Penguin Colony and site of one of the largest Great White Sharks ever fished from its waters in 1978.
With each of us living on a different continent, impromptu practices are impossible and getting together requires more than a phone call. A series of concerts were arranged in Australia and we convened in the basement of a beach house in Sutherland Bay. Each of our albums is conceived in a different way, and this was no exception.
After two weeks of rehearsals and a gathering of ideas, it was apparent we had a lot of material...somewhere in the vicinity of 40 songs, which was whittled down to 25. In January we booked 10 days in Sing Sing studios in Richmond, Melbourne and with Casey Rice (Tortoise, Liz Phair, Gastr del Sol) at the helm, and recorded all the tracks. Our approach this time was to load the car up with as many instruments as possible and then give each song what it needed. In the past, we have tried to capture the band's live potential and this time we figured to think about how we might perform the songs later. The songs are much shorter, trimmed down, classic in composition. The album boasts violin, drums, guitar, bass, viola, mandolin, bouzouki, organ, piano, acoustic guitar, bagpipes and, for the first time on a Dirty Three album, voice. Sally Timms was in town with the Mekons and added some voice. A month or so later, when Chan Marshall was in Melbourne playing some shows, she added some vocals. I believe all three of us have played on her recordings at some point and collaboration felt right. Upon completion of the recording, we settled upon 19tracks.
Of the 19 songs, 18 are original (one being a co-write with Chan) and the other is an adaptation of a song by Felix Lajko. He is a fiddle player from Hungary and is one of my all time favourite players. His first album, Lajko Felix Es Zenekara, was given to me years ago after a concert in Berlin and is long unavailable. I listened to it non-stop through the making of Ocean Songs and it is one those albums you just find yourself coming back to. The song "Zither Player" is in fact part of the original song adapted for our own purposes. He is a reminder that the fire is still there.
Each album into it feels like a page closed. This album felt good to make. It sounds like a step somewhere to me, in some direction, and that's what we have always been about. It is dedicated to long time friend and advisor to the band, Mick Geyer, and is a celebration of all things inherent in the Dirty Three domain. And as he was oft to say, "It takes pressure to make diamonds." For me, our greatest success is that we continue to make recordings and concerts, 14 years after our formation. The hunt is still on and the chase is still there.
Warren Ellis
Ivry Sur Seine
FRANCE July 2005
Website: