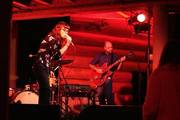 The Golden Bears
The Golden Bears are Seth Lorinczi and Julianna Bright. Julianna plays drums and sings and Seth pretty much plays everything else. They live in Portland, Oregon where Seth builds and fixes audio gear, cooks and writes, and Julianna makes art.
Their record, "Wall to Wall" was recorded entirely in and around their home while Julianna was knocked up. Their daughter was born on the first day of Spring in 2007, and it took about two months before her parents realized their record was the only thing that could make her stop crying in the car.
The music reflects their love of everything from layered psychedelic recordings to the most primitive garage and traditional folk. Oh, and so much joy in the making of it!
Here are tidbits of the kind (mostly!) press we've received:
"The Golden Bears recently treated me to the best live performance I've seen in a long time. Vocalist/drummer Julianna Bright exudes a wise stage demeanor and, similar to the early styles of Patti Smith, has a soulful, heavy tone that demands attention while remaining mysterious." -Willamette Week
"A surprise. This is fabulous. Hunt this band down with spears. Net them on the sidewalk. Dig bear pits in their front lawn. BUT, make sure they're captured alive." -WW Local Cut
"It's a gorgeous record, perfectly suited to the vinyl format, with Bright's absolutely charming cover art and twelve short songs that add up to something greater than the sum of their parts. Songs flow in and out of each other, motifs are introduced, indulged and expanded upon; the result is divided up amongst two sides that are, in some ways, mirror reflections of each other. The album embraces the strangeness of dreams, the comfort of domesticity, the reassurance of love, the fear of the unknown, and the wide-eyed wonder of childhood imagination. It's breathtakingly good." -Portland Mercury
website:




myspace: