Wednesday, May 16, 2012
BGI and VOIS present

Hunter Lovins, "Reframing the Global Economy: The Business Case for Gross National Happiness"

5 p.m. doors; 6 p.m. event

All ages welcome

$12 per person; $9.95 for BGI students (contact BGI for password)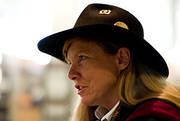 Hunter Lovins, "Reframing the Global Economy: The Business Case for Gross National Happiness"
Join Bainbridge Graduate Institute and VOIS for an evening with Hunter Lovins, president and founder of Natural Capitalism Solutions, to discuss the business case for gross national happiness. Recently returned from a United Nations panel organized by the Permanent Mission of Bhutan, Lovins will continue the conversation on how to achieve this more holistic measure of a nation's wealth, exploring the current state of the global economy, and describing the major challenges we are facing in the midst of an oil crisis and climate change. She will invite discussion to propose solutions to foster a more sustainable model of growth.
After diving deeper into the context, Lovins will survey a solution that combines international leadership, smart policy at the national level, action by states and provinces, a suite of market-based measures, and a growing commitment by individuals to create the future we want. Drawing on material from her most recent book, The Way Out: Kickstarting Capitalism to Save Our Economic A$$, Lovins' detailed stories of international and domestic examples will paint a vivid picture of hope and possibility.
website: