Monday, June 18, 2012
Limited-Edition Beer Tasting - Crystal Brewery Double Barrel Salute Beer Release

6 p.m. 'til 8 p.m.

21 & over to drink

Free admission; limited edition beer at happy hour pricing
Crystal Brewery
Double Barrel Salute Beer Release
A farewell gift from veteran Crystal brewer Jeffrey Cooley, as he heads off to manage The Edgefield Brewery, Jeff and Alex have decided to release a couple of special treats they have been patiently aging in some of our Edgefield Winery French Oak Wine Barrels. Two very unique and distinguished ales, One of which is a Belgian-style Lambic Ale Inoculated with a blend of wild yeast and Lactobacillus and aged for 5 months, then re-fermented with 42 pounds of Oregon Raspberry puree and allowed to age 2 more months in the barrel before being transferred to kegs and properly carbonated for your tasting pleasure. This Framboise has undergone a total of 8 months of aging and we are releasing a single keg for this event, as we will squirrel the rest away in the depths of our cooler to be slowly re-released as we see fit. The second ale is a Belgian-style Abbey Ale that has had 7 months of barrel aging in a similar Edgefield Winery French Oak Wine Barrel; although, this ale was not inoculated the barrel was allowed to work its "magic" and it has picked up some subtle sour notes from the indigenous cultures within the wood of the barrel. A single firkin of this barrel aged masterpiece has been filled with an addition of High Krausen ale to assist in a gentle natural cask-conditioning and a Hogshead Whiskey soaked American Oak Infusion Spiral has been added to lend more depth and complexity. Once again the rest of this ale will be kegged and stashed away in the cooler for subsequent random "vintage" releases.
Cotillion Framboise
Barrel-Aged Belgian-Style Lambic Ale
This ale has been patiently barrel aged for over 8 months in an Edgefield Winery French Oak Wine Barrel amid a myriad collection of wild yeasts and bacteria, during the final 2 months it was re-fermented with 42 pounds of Oregon Raspberry puree to create a complex masterpiece of Belgian-inspired beauty. It pours a lovely crimson red with a thick white head and champagne effervescence. A tart fruity raspberry aroma hints to the joy your palate is soon to experience. A delicate fresh raspberry flavor warms your taste buds for the subtle acidity of tart fruit and tingly bubbles that awaken your senses. A refreshing bubbly ale that is crisp and dry like a fine champagne. A clean finish that leaves you wanting more and more, a perfect toast to summer and celebration of all things fermentable!
Malts: Franco-Belges Pilsner Malt, Grain Millers Un-malted Wheat and Rolled Oats.
Hops: Sterling
Adjuncts: Barrel Aged with an Oregon Raspberry Puree in a French Oak Wine Barrel
Yeast: Wyeast 1762 Belgian Abbey II, Wyeast 5112 Brettanomyces Bruxellensis, Wyeast 5626 Brettanomyces Lambicus and Wyeast 5335 Lactobacillus
Original Gravity: 1.052
Terminal Gravity: 1.006
Alcohol by Volume: 5.93%
IBUs: 10
SRM: 9
Naakt Monnick
Barrel-Aged Belgian-Style Abbey Ale
This ale has been barrel aged for over 7 months in an Edgefield Winery French Oak Wine Barrel and subsequently cask-conditioned with a whiskey soaked American Oak infusion spiral. The indigenous cultures within the wood of the barrel have leant a gentle tart acidity to this interesting ale. It boasts a deep reddish brown color and slight cask conditioned head that excitedly greets the senses with aromas of tart cherries and figs with subtle woody undertones. Flavors of spicy fruit, tart cherries and whiskey-infused oak abound. A deep complex ale with a wine-like quality that makes this a very unique beverage to keep you interested till the last drop.
Malts: Franco-Belges Pilsen, Caramel Munich, Caramel Wheat, Great Western Vienna, Thomas Fawcett and Sons Pale Chocolate and Grain Miller's Rolled Oats
Hops: Santiam and Crystal
Adjuncts: Aged in a French Oak Wine Barrel and Cask-conditioned with a Hogshead whiskey soaked medium char American White Oak infusion spiral
Yeast: Wyeast 1762 Belgian Abbey II
Original Gravity: 1.064
Terminal Gravity: 1.008
Alcohol by Volume: 7.22%
IBUs: 18
SRM: 13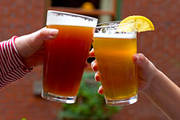 Limited-Edition Beer Tasting - Crystal Brewery Double Barrel Salute Beer Release
Join us once a month to sample a new, small-batch beer, handcrafted by one of our brewers.
Talk to the brewers, ask beery questions, enjoy happy hour pricing all night long on these limited-edition pints and more.
And when the beer is gone, it's gone.