Thursday, October 4, 2012
Meet The Brewer • Special Beer Tasting

Hop-Rocket Thundercone

5 p.m. 'til beer is gone

All ages; 21 & over to taste

Limited-edition beer at happy hour pricing all night
Hop-Rocket Thundercone
Daring to be deliciously and dangerously good, this is our fresh-hopped Thundercone that has undergone a hoptastic transition.  "Dry-hopped" with wet cascade hops as well as forced through a device known as a "Randal", this is going to be  one hoppy experience.  The "Randal" is a container upon with a few pounds of wet cascade hops will be placed and the beer will be forced though these hops on its way from keg to faucet.  Doing this strips all the flavorful oils out of the hops and  provides a bright and fresh flavor  unlike anything anything you have had before.
Malts:Superior Pilsen and Caramel Munich 40
Hops: Centennial and Fresh Cascade
OG: 1.061   TG: 1.013   ABV: 6.19   IBU: 44   SRM: 7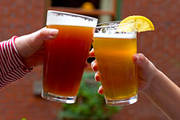 Meet The Brewer • Special Beer Tasting
Join us once a month as the brewery unveils another firkin handcrafted ale.
Talk to the brewers, ask beery questions, enjoy happy hour pricing all night long on these limited-edition pints and more.
And when the beer is gone, it's gone.