Friday, October 5, 2012
Calobo

Lewi Longmire Band

8 p.m. doors, 9 p.m. show

All ages welcome

$18 advance, $20 day of show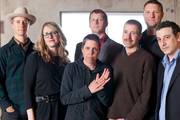 Calobo
Calobo, known for their energetic live shows, tight vocal harmonies and intricate musicianship, built a large and dedicated cult following in the Pacific Northwest through out the '90s.
The independent roots rock band Calobo was founded in the early '90's by long time friends Caleb Klauder and David Andrews. They had been writing and performing music together while growing up on Orcas Island in Washington State. Each choosing to go to college in Oregon allowed them to continue performing music together. It was in college that they each gathered together their musically talented friends to form a band. They ended a successful 10-year run in 2001 and are only now reuniting to perform again.
Calobo is: Caleb Klauder on vocals, guitar and mandolin, David Andrews on guitar and vocals, Jenny Conlee on piano, Kenneth Erlick on electric guitar, Michele Van Kleef on vocals, Nate Query on bass, and Brian Bucolo on drums.
Calobo was an independent rock band back when the term meant independent in the business sense, as opposed to being a genre as it is today. The band forged its own path in the music industry by having its record label, booking agency, and management all under one roof. They sold over 100,000 in 10 years while doing everything themselves from publicity to merchandising.
Calobo also toured relentlessly over this time period, and established itself as a West Coast staple of the "jam band" scene, consistently selling out multiple shows at venues like the Crystal Ballroom in Portland, OR; the Showbox in Seattle, WA and the Great American Music Hall in San Francisco, CA.
But all good things come to an end. In 2000, the band stopped touring and only played one more farewell weekend of shows in the Fall of 2001 to bring the Calobo era to an end.
Since the band split up in 2001, the members of Calobo have continued playing music and impacting the Portland music scene. Klauder, Andrews, and Van Kleef have all released solo records. Klauder is also a founding member of the Foghorn Stringband. Query and Conlee are founding members of both the Decemberists and Black Prairie. Countless other Portland bands have had one or another Calobo member on board performing or recording: Casey Neill, Jerry Joseph, Jeff Trott, Laura Veirs, Laura Gibson, and many more.
When asked why the band has decided to get back together now, Nate Query, Calobo's bass player, puts it this way: "We have been talking about doing this for years. We are all still friends. Some of us are in other bands together and we run into each other all the time. It was just never the right time. Our schedules never matched up. But I ran into Caleb at Jazz Fest in New Orleans last year and we talked about the idea of getting the band back together again. It just seemed like the right time and we felt like it could be really fun."
Calobo will be performing 3 reunion shows: October 4th at The Knitting Factory in Boise ID, October 5th at The Crystal Ballroom in Portland OR and October 6th at The Neptune Theater in Seattle WA.
Website: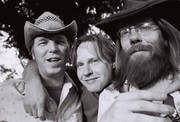 Lewi Longmire Band
Lewi Longmire has built a reputation as Portland's multi-instrumentalist "go to guy." In the years since relocating to Portland from Albuquerque, New Mexico, he's been included on shows and recordings by many of the Northwest's finest bands and songwriters. He's worked with national acts Michael Hurley, Victoria Williams and Tara Jane O'Neill as well as local luminaries Fernando, James Low, Little Sue, Casey Neill, Michael Jodell, the Freak Mountain Ramblers and The Peasants.
More recently, though, Lewi has taken all the things he learned from working with these fine performers and has been spending his time leading a roots rock/americana band of his own, singing the songs he has written himself. The group owes much to the American tradition of good songs played with high energy, deep roots, and an unpretentious sense of fun. Their sound finds the connection between the basement feel of The Band, the raspy blue-eyed soul of Joe Cocker, the desert space of Giant Sand, the "without a net" deep space improvisations of the San Francisco ballrooms, the punk abandon of The Stooges and the quiet contemplation of Johnny Cash playing solo.
Helping Mr. Longmire achieve this sound is a band of stalwart Portland musicians. Bill Rudolph (bass and vocals) played with the Crackpots and Little Sue for years, driving their home crowd into an energetic frenzy with his low tones. Ned Folkerth (drums) has toured the world over with many groups, including the midwest's Pinetop Seven, always laying down the perfect groove to cure whatever ails ya.
website: