Friday, October 19, 2012
"Team Pride" Golf Tourney

1 p.m. shotgun start

21 and over

$45 per player in advance; $55 last week prior to event (cart rental is $15 per player)
Football Jerseys, Hockey Sweaters, Baseball Shirts, and the one day we'll allow Basketball Tank Tops.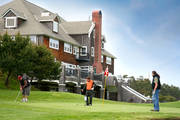 "Team Pride" Golf Tourney
Enjoy the historic Gearhart Golf Links during one of many golf tournaments to come this year. Afterwards, have a round of ales or whiskeys at the Pot Bunker Bar or the pub while you discuss your play. Golfers are welcome to sign up in the Gearhart Golf Links pro shop or give them a call for more information: (503) 738-3538. Carts are available, and we'll have prizes at every hole!
Want to plan ahead? We have tourneys scheduled every 3rd Friday, from now through October.
Tourney rules (subject to change)
Format: 4 person scramble – enter as a team, or any portion of and we will find you partners
Price is per player, carts are an additional $15 per player
Reservation required. Sign up at gearhartgolflinks.com
Fees include golf, prizes and 2 drinks
Prizes on every hole!
Tourneys are played rain, or shine, wind or sleet... even if it's sunny & warm!
website: