Wednesday, October 17, 2012
Limited-Edition Beer Tasting

Therapist Scotch III

4 p.m. 'til beer is gone

All ages welcome

Limited-edition beer at happy hour pricing all night
Therapist Scotch III
Take a seat in the therapist's chair and unwind. Oak Hills brewer Stephen Harper raided the old brew sheets to find a classic brew from the archives to bring back to life. Brewed back in 2004 by Chris Haslett, this traditional Scotch Ale has flavors of smoke and peat backed up by smooth Carmel and roast notes. The mash tun was packed to the brim with a pale malt base giving us a solid 7.5% ABV. It wouldn't be therapy without that right? That smokiness that you find in Scotch whiskey is what makes this beer so unique. "Peat" is a mossy turf that grows on the hills of Scotland. Highly flammable, it is used as the fuel to cook the grains and imparts that one of kind flavor you only find from the kilns of Scotland.
Malts: Pale malt, Wheat, Munich, Chocolate, Roast, Smoke malt
Hops: Simcoe, Brewers Gold
OG: 1.079
TG: 1.021
ABV: 7.5%
IBU: 35
SRM: 23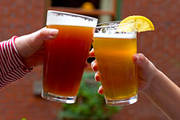 Limited-Edition Beer Tasting
Join us once a month to sample a new, small-batch beer, handcrafted by one of our brewers.
Talk to the brewers, ask beery questions, enjoy happy hour pricing all night long on these limited-edition pints and more.
And when the beer is gone, it's gone.