& Lola's Room
1332 W. Burnside
Portland, OR 97209
(503) 225-0047
crystal@mcmenamins.com
Soul'd Out Music Festival
Preservation Hall Jazz Band
March Fourth Marching Band (closing the evening)
7 p.m. doors, 8 p.m. show |
$25 advance, $30 day of show (standing) || Golden Circle: $35 adv., $40 d.o.s. (seated) |
21 and over
Buy Tickets
Tickets on sale now!
Note: this is a seated event.
About Preservation Hall Jazz Band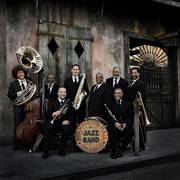 The Preservation Hall Jazz Band derives its name from Preservation Hall, the venerable music venue located in the heart of New Orleans' French Quarter, founded in 1961 by Allan and Sandra Jaffe. The band has traveled worldwide spreading their mission to nurture and perpetuate the art form of New Orleans Jazz. Whether performing at Carnegie Hall or Lincoln Center, for British Royalty or the King of Thailand, this music embodies a joyful, timeless spirit. Under the auspices of current director, Ben Jaffe, the son of founders Allan and Sandra, Preservation Hall continues with a deep reverence and consciousness of its greatest attributes in the modern day as a venue, band, and record label.
The building that houses Preservation Hall has housed many businesses over the years including a tavern during the War of 1812, a photo studio and an art gallery. It was during the years of the art gallery that then-owner Larry Borenstein began holding informal jam sessions for his close friends. Out of these sessions grew the concept of Preservation Hall. The intimate venue, whose weathered exterior has been untouched over its history, is a living embodiment of its original vision. To this day, Preservation Hall has no drinks, air conditioning, or other typical accoutrements, strictly welcoming people of all ages interested in having one of the last pure music experiences left on the earth.
The PHJB began touring in 1963 and for many years there were several bands successfully touring under the name Preservation Hall. Many of the band's charter members performed with the pioneers who invented jazz in the early twentieth century including Buddy Bolden, Jelly Roll Morton, Louis Armstrong, and Bunk Johnson. Band leaders over the band's history include the brothers Willie and Percy Humphrey, husband and wife Billie and De De Pierce, famed pianist Sweet Emma Barrett, and in the modern day Wendall and John Brunious. These founding artists and dozens of others passed on the lessons of their music to a younger generation who now follow in their footsteps like the current lineup.
About March Fourth Marching Band (closing the evening)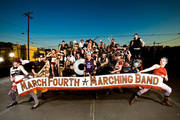 MarchFourth is a date, a command, and a band. Imagine Duke Ellington meets Sgt. Pepper in an international big-top Fantasia. Imagine a 1920's speakeasy where Mr. Bungle meets the Shogun Warriors in a PG Clockwork Orange. Imagine running into this giant spectacle marching through a festival, down a street, or onto stage. The impact is immediate and infectious!
MarchFourth Marching Band is a mobile big band spectacular, consisting of saxophones, trombones, trumpets and a drum/percussion corps, anchored by electric bass (battery powered). Without guitars or keyboards, M4 "rocks" with the best of them, entertaining the audience with an over-the-top explosion of performance and charisma. The sound is huge, melodic, and dynamic, taking audiences on a musical journey around the globe. MarchFourth writes and performs its own material, and also draws inspiration from an eclectic range of worldwide influences, such as Eastern European Gypsy Brass, Samba, Funk, Afro-Beat, Big-Band, Jazz, and Rock music, as well as television, film, circus, and Vaudeville.
Stilt-walkers, fire eaters, flag twirlers, vaudelville dancers, clown antics, and acrobatics are just some of the things you'll see accompanying this eclectic big band. MarchFourth Marching Band's stilt-walkers are world-class, performing acrobatics, dance routines, and even fire dancing on stilts-all in fanciful costumes. The other dancing beauties can fill the stage with mesmerizing original dance routines or spread out into the audience and get everybody dancing. The musical quality, the energy of the band, and the spectacle of the dancers all combine to create an original performance that appeals to even the biggest cinics.
To MarchFourth Marching Band, art is life. Aside from being performers, the members of MarchFourth are also full- or part-time artists, designers, and craftspeople. All their drum harnesses (welded from recycled bicycle parts), stilts, costumes, merchandise, audio, and visual propaganda are designed and produced by members of the band.
The scope of appeal is almost universal: MarchFourth can fit in (and stand out!) at everything from weddings and school assembly concerts, to nationally known music festivals and top-level sporting events. From the hippest to the most down-to-earth, from conservative to liberal, from infant to elderly: all walks of life have been seen enjoying MarchFourth Marching Band.
Map & Directions
Tags for this Event:
Music > Jazz
Property > Crystal Hotel
Related content (tags):