DJ Gregarious and McMenamins present
Glass Danse
8 p.m. doors, 8 p.m. show

|
$5 advance, $10 day of show |
21 and over
Buy Tickets
Tickets on sale now!
About Glass Danse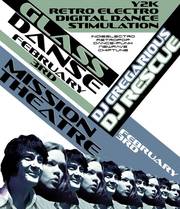 Glass Danse with DJ's Gregarious and Rescue (Zia of Dandy Warhols)
Come dance to the NEW NOSTALGIA; back to the beginning of the end of the world!!! When bands like Ladytron, Adult., Bloc Party, Glass Candy/Chromatics, Cansei der Sexy, Crystal Castles, Fischerspooner, Franz Ferdinand, Goldfrapp, Gorillaz, Chicks on Speed, Le Tigre, Yelle, Yeah, Yeah, Yeahs, Green Velvet, Miss Kittin, LCD Soundsystem, and The Faint ruled the danse floor!!!
-------------------------------------------------------------------------
Come dance to the OLD NOSTALGIA; back to the beginning before the end of the world!!!When bands like Kraftwerk, Depeche Mode, Berlin, DEVO, Duran Duran, Heaven 17, Human League, New Order, The Normal, OMD, Soft Cell, Thompson Twins, Yazoo, Gary Numan, Fad Gadget, Bronski Beat, and Visage cooled the dance floor.
-------------------------------------------------------------------------
DJ Rescue kicks ass! DJ Rescue, aka Zia McCabe of The Dandy Warhols, has been saving good parties from bad music since 2001 by spinning diverse genres at varied events around the globe. From Bowie to Biggie, Otis Redding to Os Mutantes or Patsy Cline to Peaches she always know exactly what to spin. An extensive collection of vinyl, a jam packed hard drive and international experience guarantees a memorable set full of surprises and good times.
DJ Gregarious kicks ass! Since 1996, Gregarious, aka the guy who was in Jellyfish, has been soundtracking the rise and fall of Portland Since 1996. From defunct dives like Satyricon & EJ's to behemothic ballrooms like the Crystal & the Exchange (and everywhere in-between) he's known for peircing a room with his psychic sonic abilities and making the party POP. An obsessive collector with 20 years of hard DJ labor, he refuses to let the dance floor die.
Map & Directions
Tags for this Event:
Music > Dance Party
Property > Mission Theater
Related content (tags):