4045 N.W. Cornelius Pass Rd.
Hillsboro, OR 97124
(503) 640-6174
Contact Us
Vintage Rock for Vintage Rockers
Freak Mountain Ramblers
John Bunzow
Tuesday, September 23, 2014
5:30 p.m. 'til 8 p.m. |
$20 per person, $35 per couple, at the door, cash only |
All ages welcome
About Vintage Rock for Vintage Rockers
C'mon out for a concert featuring the hilltop rock of Freak Mountain Ramblers, and the alternative country of The John Bunzow Band. Proceeds benefit Villages NW, a local nonprofit.
About Villages NW:
Part of a rapidly growing national movement, Villages NW has worked tirelessly over the past two years to organize neighborhood residents into planning groups and get sevengrassroots Villages into development across the Portland metro-area-four in Multnomah County, two in Washington County and one in Clackamas County-and we're not done yet!  Our mission is to enable every local resident who wants to be able to grow old in the home and neighborhood they love to have a Village to support them.
About Freak Mountain Ramblers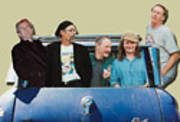 Portland's own Freak Mountain Ramblers bring a rollicking brand of rock 'n' roll, bluegrass, alternative country and country-blues to every show they play.
With a lineup including three members of the inimitable and notorious Holy Modal Rounders / Clamtones amalgamation of the '70s and '80s, Freak Mountain Ramblers has its roots in the underbelly of the alternative music scene that existed at that time, both in Portland and across the country. The Freaks have accumulated a loyal following in the Portland area by dependably creating beauty and bedlam at their live shows, and by producing CDs that successfully translate that energy and excitement to disc. Four lead singer/songwriters, each with a distinct character and approach to life and music, provide a dynamic show that packs the rooms with some of the most interesting music fans around.
The Freak Mountain Ramblers are veteran performers packing decades of experience. FMR members have been core musicians of the Holy Modal Rounders, Golden Delicious, the Clamtones, Richard Cranium and the Phoreheads, Prairie Dogs, Swingline Cubs, The Trail Band, and The Fly By Night Jass Band.
"... Freak Mountain Ramblers aren't your typical country western band. Not only have they chucked the slick yippie-ki-yay good looks of contemporary C&W singers for the haggard couture of mountain men, their lyrics have bizarrely warped the genre's storytelling. One song starts as a fable about two fighting neighbors and picks up speed until they have doused each other with gasoline. Strangely addictive and disturbingly fun, the song is sung in sweet tones and set to a galloping swing." - Portland Mercury
website:
About John Bunzow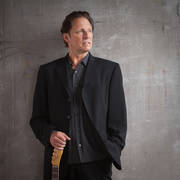 Portland, Oregon native John Bunzow has been called one of the finest writers and roots-musicians on the current music scene. Producer Pete Anderson (Dwight Yoakam, Meat Puppets, Steve Forbert) said he is "... without doubt the best artist I've heard in recent times." Chicago Tribune columnist Jack Hurst cites Bunzow with mixing "the rootsy with the revolutionary."
Bunzow's new CD, Darkness and Light, on Sideburn Records, was recorded live in a friend's basement studio. "I was itching to get back to my roots music," Bunzow says, "That's the vibe I wanted - all one-take vocal and guitar parts - just as they came down live. Just like we do out in the clubs."
John started playing professionally while attending the University of Oregon at Eugene, and following college; he spent 15 years playing clubs throughout the northwest United States. In the process, his fusion of roots rock and blues garnered an extensive fan following.The end result is that Bunzow's eclectic music is a melting pot of influences ranging from Dylan to Elvis Costello to Merle Haggard and Tom Waits.
website:
Map & Directions
Tags for this Event:
Events > Benefit
Music:
Groove/Jam
Singer/Songwriter
Blues
Americana
Property > Cornelius Pass Roadhouse
Related content (tags):