A truly remarkable destination.
2126 S.W. Halsey St.
Troutdale, OR 97060
Local: (503) 669-8610
Elsewhere: (800) 669-8610
edge@mcmenamins.com
"Detained by My Country"
Oregon Encyclopedia History Night
presented by
Mitzi Loftus, M.A.
5:30 p.m. doors; 6:30 p.m. event |
Free | Seating is limited |
All ages welcome
About "Detained by My Country"
For Japanese Americans who lived in the West during World War II, the removal to internment camps in 1942 as decreed by Executive Order 9066 is an experience they will never forget. Mitzi Loftus was a child living in Hood River when her family was forced to leave their belongings and home and move to Tule Lake Camp from 1942 to 1943 in northern California.
At the August OE History Night, listen to Mitzi Loftus describe her time spent at Tule Lake and view related photographs from her personal collection. Loftus will detail her parents immigration story to the United States in 1904 and 1911, describe the removal from her house in Hood River to internment camps and tell of her family's movements through World War II and re-settlement in Oregon with the attendant discrimination they experienced in the following years.
About the Speaker
Mitzi Loftus was born in Hood River of immigrant parents from Japan. She graduated from Hood River High School and received B.A. and M.A. degrees from University of Oregon. She taught for three years at Creswell High School before attending the English Language Institute at the University of Michigan to prepare for a Fulbright Teacher year in Japan in 1957-1958. She lived in Coos Bay for over thirty years, substitute teaching for all but one. She moved to Ashland in 2004.
About Oregon Encyclopedia History Night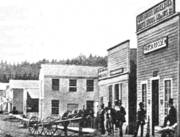 The Oregon Encyclopedia hosts a series of History Nights in collaboration with McMenamins pubs. Come join us for an enlightening evening of history, served up with food and a pint or two of good beer, and find out more about the history and culture of our state from OE authors. Bring your encyclopedia-worthy Oregon stories to share with the OE Editors-in-Chief.
Oregon Encyclopedia website:
Map & Directions
Tags for this Event:
Events > History
Movie Types > All Ages
Property > Edgefield
Related content (tags):