Back to school in Bend!
700 N.W. Bond Street
Bend, OR 97703
Local: (541) 382-5174
Elsewhere: (877) 661-4228
Contact Us
Ashleigh Flynn and the Back Porch Majority
with special guest Kathryn Claire
7 p.m. til 10 p.m. |
Free |
All ages welcome
About Ashleigh Flynn and the Back Porch Majority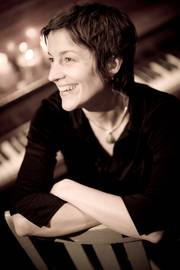 Ashleigh Flynn's finest album, American Dream, is alive with stories about down-and-outers, young and old, all still hopeful, as is Flynn, that they can achieve the American Dream.
From Kentucky, Ashleigh Flynn grew up foot stomping along the Ohio River as the steamboats and barges made their way to the muddy Mississippi. An electrifying performer blessed with unbridled charisma and the voice of angel, Flynn has released two previous full-length studio efforts, Chokecherry (2002) and Ashleigh Flynn, self-titled (1999). The Village Voice regards Ashleigh as "A darling of the NW Americana scene", writing: "Flynn adds a smoky soulful voice ... marrying styles such as bluegrass to pop."
Flynn has traveled near and far, touting her tunes, and amassing new fans in markets all over the US & Europe - including month long "up and comers" residencies at The Living Room and Pianos in New York City, and Toad in Cambridge, and a few trips across the pond.
website:
About with special guest Kathryn Claire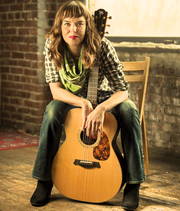 Kathryn Claire has asserted herself in a new generation of traditionally-inspired musicians. Her fiddle-playing exhibits a technical grace which is matched only by her truly captivating voice and she possesses the rare ability to move seamlessly across genres. Her deep love and respect for traditional music has long been a driving influence and those roots can be heard in her own original music.
Early classical training on the violin naturally gave way to her own creative inclinations. While still a teenager, Kathryn taught herself guitar in order to explore her own voice as a songwriter. She has since spent years cultivating her unique style and approach to music as a violinist, singer, and songwriter.
Performing is a truly joyful experience for Kathryn Claire, and her love of music is evident every time she takes the stage. Strong fundamentals from her classical background combined with an innate ability to improvise and a keen sense of harmony has made her a sought after collaborator and allowed her to work in a wide range of genres.
Map & Directions
Tags for this Event:
Music:
World Music
Americana
Singer/Songwriter
Property > Old St. Francis School
Related content (tags):