In the heart of Oregon's wine country...
310 N.E. Evans Street
McMinnville, OR 97128
Local: (503) 472-8427
Elsewhere: (888) 472-8427
Contact Us
16th Annual McMenamins UFO Festival
11:30 a.m. 'til late |
- |
All ages welcome
Buy Tickets
Tickets on sale now!
About 16th Annual McMenamins UFO Festival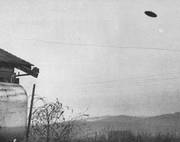 Set in a small town in the middle of Oregon wine country, the UFO Festival explores and celebrates the possibilities of life beyond Earth. Skeptics and believers alike are invited to enjoy all the events happening throughout the weekend!
Lunch with the Speakers
11:30 a.m. 'til 1 p.m. · $40 advance · Hotel Oregon · Sold Out
Speaker: Kathleen Marden
The Evidence of ET Contact
Marden presents evidence about real ET contact experiences, including the 1961 abduction of Betty and Barney Hill.
2 p.m. doors; 3 p.m. event · McMinnville Community Center
McMinnville Downtown "Landing Party"
Vendor booths in the US Bank Plaza, 3 p.m. 'til 8 p.m.
Live music from 4:30 p.m. 'til 9 p.m.
Speaker: Stanton T. Friedman
The Truth about Operation Majestic 12
Discussing the Eisenhower Briefing document, considered the most important classified UFO document ever released to the public.
6 p.m. doors; 7 p.m. event · McMinnville Community Center
Kirby Swatosh & The Moon Rock Patrol
7 p.m. 'til 10 p.m. · Free · Hotel Oregon · 21 & over
Live Radio Broadcast: Ground Zero with Clyde Lewis
7 p.m. 'til midnight · Free · Hotel Oregon

The Strange Tones
8 p.m. 'til 11 p.m. · Free · Hotel Oregon
UFO Festival Website:
Map & Directions
Tags for this Event:
Events:
Family
History
McMenamins Celebrations
Property > Hotel Oregon
Related content (tags):