Mark Hosler (of Negativland)
Office Products
Fox Dye
7 p.m. doors, 8 p.m. show |
$12 advance, $12 day of show |
All ages welcome
Buy Tickets
Tickets on sale now!
in Quadraphonic Sound!
About Mark Hosler (of Negativland)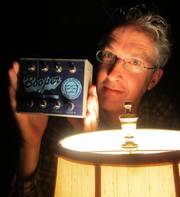 Mark Hosler is a founding member of the American audio visual collage group Negativland. Since 1980 Negativland have been creating records, video, visual art works, radio, and live performance, using appropriated sound, image and text. Taken mostly from corporately owned mass culture, Negativland re-arranges these found bits and pieces to make them say and suggest things that they never intended to. In doing this kind of cultural archaeology and "culture jamming" (a term they coined way back in 1984), Negativland have been sued twice for copyright infringement.
Mark takes a break from his Negativland duties to perform live and solo for the first time in his 34 years of making music. Using a performance set-up built around various homemade one-of-a-kind electronic noise making devices (including two of Negativland's original "Boopers"), Mark creates an engaging and musical soundscape performance with devices that are intentionally unstable analog feedback boxes. Sometimes sounding like insane, alien, electronic insects fighting each other, the Boopers create a non-linear dynamic "living" system of sound for Mark to interact with that ends up being a performance dynamic where the musician is a fellow collaborator with the devices, encouraged to converse instead of merely transmit. The Boopers used in this show go way back to 1975, when Negativland founding member David Wills created the first one, adding multiple transistors to a simple FM radio receiver, and sending its output back into its input. Various knobs control the amount of signal through the transistors, but the sound that emerges remains wildly variable, and incredibly fun to listen to. Using multiple Boopers (all based on Wills's original design) and other homemade electronics as primary sound sources, Mark manipulates and augments the raw sound sources into a choral rainforest of pure electronic ear candy, erasing any easy distinction between the machine and the human. He might also rock out a little bit, too.

More info -
In addition to live shows, CDs, radio shows, books, DVDs and visual art shows both solo and with Negativland, Mark has given over 100 lectures at various places like MIT, Yale, Princeton, Duke University, New York University, UC Irvine, UC Berkeley UCLA, Seattle University School of Law, Cranbrook Academy of Art, Universities of Arizona, Virginia, Tennessee, Georgia, North Carolina, and at various venues in Washington D.C, New York City, London, Berlin, Barcelona, Lisbon, Bologna, Lausanne, Amsterdam, Stockholm, Toronto, Vancouver, Honolulu, and Melbourne Australia. He has also given talks at the Regional Conference to End Corporate Dominance, the Consumer Electronics Show, the Conference On The Public Domain, World Fair Use day, and, as a citizen lobbyist, given presentations about art and copyright law to the offices and staff of various Senators and Congressmen on Capitol Hill in Washington DC.
In 1995 Negativland's released a 270 page book with 72 minute CD entitled "FAIR USE: The Story of the Letter U and the Numeral 2". This book documents their 4-year legal battle over their release of a single entitled "U2". San Francisco filmmaker Craig Baldwin produced a feature length documentary about Negativland, their "U2" single, culture jammers and other appropriation artists entitled "Sonic Outlaws" and Mark has appeared at many showings of this film to lecture, speak, debate, and answer the many questions that are raised whenever that film is shown. Negativland also created the soundtrack and sound design for Harold Boihem's documentary "The Ad and the Ego," an in-depth look into the hidden agendas of the corporate ad world that goes deeply into the gross and subtle ways that we are adversely affected by advertising.
The group continues to perform and tour, broadcast their weekly radio show '"Over The Edge," and more recent work includes "Our Favorite Things," a feature length DVD collection of their many years of collaborative film work, and various retrospective art shows in Seattle, Minneapolis, Houston, and Los Angeles of their visual collage work. A brand new double CD, their first in over six years, is set to be released in the summer of 2014.
website:




facebook:
About Office Products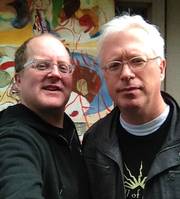 After trying to come up with the most monotonous name possible in 1996, the duo of Doug Theriault: guitar- live sampling, and David Chandler: percussion, sampler, records, "Office Products" was born. They have tried to push the boundaries of Electro-Acoustic improvisation and Comedy ever since.
Working with Negativland, and sharing singles with Boards of Canada and People Like Us, Office Products comes more from Free Jazz and cutup music then anything else. They rarely play outside of the studio now so this is a rare chance to catch them live.
Doug Theriault info:




David Chandlere info:




Band website:
About Fox Dye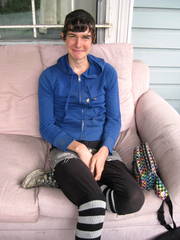 Foxdye will be bringing the very latest in wankadelic bangery and sigh-tech poop-trance to Lola's Room. Having international recognition for her jovially obnoxious breakcore tomfoolery and sophisticated midi controller finger-banging techniques, Foxdye has taken an techno-fueled turn towards mid-tempo, four-on-the-floor chill out space bangers that will surely appeal to your inner chode. Now that's what I call downtempo! Excellent seller, would buy from again!! A+++!
Website:
Map & Directions
Tags for this Event:
Events > Comedy
Property > Crystal Ballroom Property
Related content (tags):