Come have fun in school... for once...
5736 N.E. 33rd Ave.
Portland, OR 97211
Local: (503) 249-3983
Elsewhere: (888) 249-3983
Contact Us
Peter Pants
7 p.m. til 9 p.m. |
Free |
All ages welcome
About Peter Pants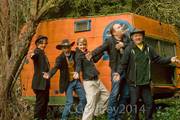 Local legends Turtle VanDemarr (Dan Hicks, Jim Kweskin Jug Band), David Reisch (Holy Modal Rounders, Michael Hurley), Jon Koonce (Johnny & The Distractions) and Dan Haley (Ed & The Boats), are joined by newcomer to the Portland music scene, Jazzy Lee VanDemarr.
Turtle (lead guitar-vocals) and David (bass-vocals) have played music together in different configurations in Portland for over 40 years. For the past 14 years these two respected and sought after Portland music veterans have been band mates with the wildly popular local band - The Freak Mountain Ramblers. Jon Koonce is a NW original who started out playing drums for the Sleazy Pieces. The singer songwriter took up the guitar in the 80's to form the legendary Johnny & The Distractions. Jon is back on the drums once again with the Peter Pants Band. Dan Haley has been a fixture of the Portland East Side Sound since the 80's. His mandolin playing, quirky personality and singing style are mesmerizing.
Jazzy has studied and been involved in musical theater, performing on stage for the past 15 years. She has also received vocal instructions through the years from two of Portland's favorite chanteuses, Mary Kadderly & Becky Kilgore. Jazzy's singing style is a little bit sassy with a lot of strong jazz influence.
This band is "too much fun," covering everything from Johnny & June to Ella & Louis, to Doris Day - with added hilarious stage banter. They are the foremost proponents of a new music genre - HILLBILLY JAZZ.
Map & Directions
Tags for this Event:
Music > Americana
Property > Kennedy School
Related content (tags):