An escape into the extraordinary
3505 Pacific Ave.
Forest Grove, OR 97116
Local: (503) 992-9533
Elsewhere: (877) 992-9533
Contact Us
Anna Tivel
Jeffery Martin
7 p.m. til 10 p.m. |
Free |
All ages welcome
About Anna Tivel
Anna Tivel's wide-eyed celestial folk songs belong in a similar ballpark with Anais Mitchell, Gregory Alan Isakov and Laura Veirs, where gentle picking plucks among occasionally unconventional sounds and a gorgeous voice tells stories of life in a world of natural wonders. The resulting music is incredibly honest, lyric-driven, and deeply affecting.
Website:
About Jeffery Martin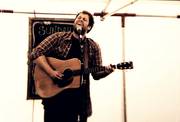 While I was earning an English degree, Josh Ritter came to my college and put on a small solo concert. Watching Ritter on stage was like watching someone trying to make sense of their existence, in real time, with a guitar and words. It seemed to be less of a performance and more of one man's necessity, which happened to be on public display that night. I had written songs before then, but certainly all that followed became something else entirely. I strive to find those songs, to write those songs, that exist in that perfect place perched between my own experience and the common experience that everyone can relate to. This rarely happens (in fact, I don't even know if it's happened yet.) I also think that I take myself much too seriously, and I have a lot to learn about writing songs that make people feel good; that make people want to shake around a little bit.
When I'm not playing music I substitute teach high school students. People love to ask how I balance music and teaching, which one I'm more passionate about; would I leave teaching behind entirely to pursue music? Does teaching influence my music? I don't know the answer to any of these things. I am passionate about music and I am passionate about teaching. Some days I can't stand music, some days I can't stand teaching. Both can feel like work, and both can leave me feeling like a crook for getting paid to do what I do.
I grew up a little bit in Texas, and then mostly in Oregon. My parents read to me at night and took me to the library and flooded my ears with music that meant something. My mom made me learn the cello at a young age. My dad took me to see John Gorka and Leo Kotke. I have a dog, a yellow lab named Ben, who has toured more than 10,000 miles with me over the past few years (human miles.) I play an old 1970′s Takamine gifted to me by my uncle.
-Jeffrey Martin has released two albums. Gold in the Water (2009) and Build A Home EP (2012.) In 2011 he was invited to the Sisters Folk Festival as an emerging artist, and then returned in 2012 as an officially showcased artist. In fall of 2012 Jeffrey was a finalist in the Mountain Stage / New Song contest in New York City. And he has earned songwriting mentions in American Songwriter Magazine, as well as the 2009 Kerrville Folk Fest songwriter contest.
Website:
Map & Directions
Tags for this Event:
Property > Grand Lodge
Related content (tags):