Saloon & Hotel
836 N. Russell St.
Portland, OR 97227
Saloon: (503) 282-6810
Hotel: (503) 335-8900
Contact Us
Monica Nelson and The Highgates
CD Release
with special guest
Jenny Don't & the Spurs
8:30 p.m. |
Free |
21 and over
About Monica Nelson and The Highgates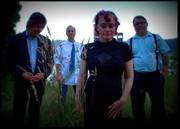 Monica Nelson and the Highgates. The band's pedigree reads like a
"Who's Who" in stoner rock, punk rock & vaudeville. At the helm,
Monica Nelson. Monica Nelson has returned to stages in Portland. And
backing her, writing new material for the Monica Nelson songbook, is
this veteran metalpunk band with a fondness for cough syrup (and not
afraid of doom or stoner rock), from Portland Oregon, built from
scraps of robots, Robutussin, helicopter parts and prison shivs.
Band interests:
Wallpaper paste, rubber cement, airplane glue. Long solitary walks
down deserted forest trails.
About Jenny Don't & the Spurs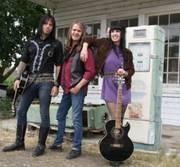 JENNY DON'T AND THE SPURS are Portland's hottest new roots-country trio. Featuring JENNY DON'T (DON'T, LADIES OF THE NIGHT), KELLY HALLIBURTON (PIERCED ARROWS, P.R.O.B.L.E.M.S.), and SAM HENRY (WIPERS, RATS, NAPALM BEACH, DON'T), JENNY DON'T AND THE SPURS bring a variety of musical styles and an formidable wealth of experience to the stage.
Live, the trio concentrates on playing a set of mostly original songs, bolstered by a few choice classic covers (HANK WILLIAMS, PATSY CLINE, ERNEST TUBB...). JENNY DON'T AND THE SPURS have also recently released a limited-edition 7" vinyl 45 on local label TOMBSTONE RECORDS.
Map & Directions
Tags for this Event:
Music > Americana
Property > White Eagle
Related content (tags):